Navigating a new relationship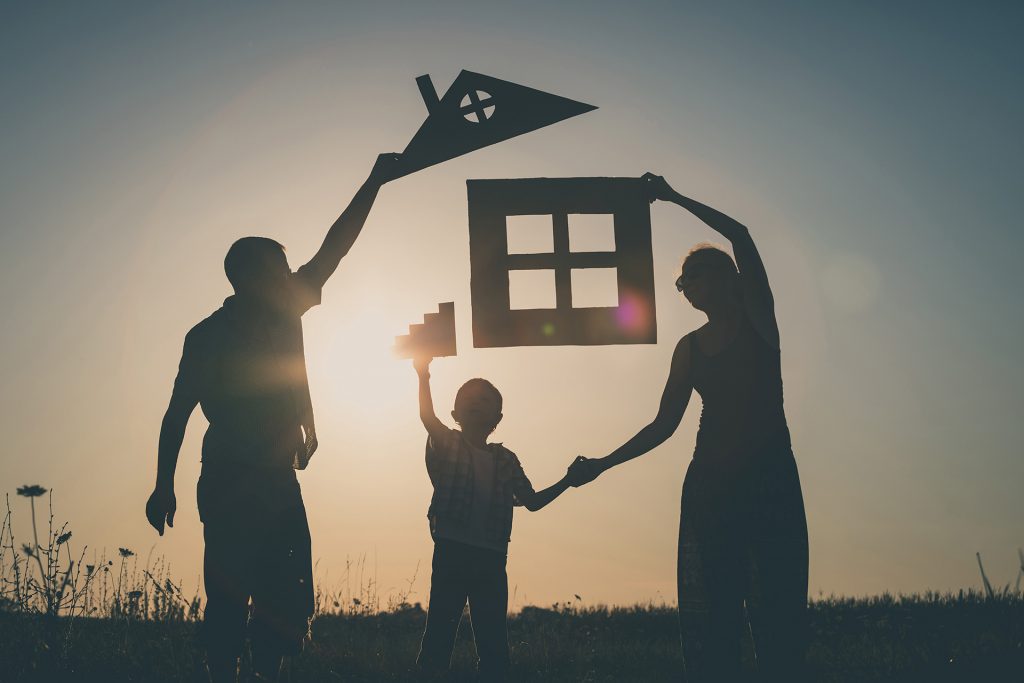 Introducing a new partner to your children
You may have been separated or divorced for some time or you may still be going through the process. Wherever you are in your journey, the next leap of dating, re-partnering or re-marrying can be thrilling – you're filled with a newfound love. However, it can also daunting especially if there are children involved.
Warning signs in a new relationship
When you get into a new relationship, you might fall in love and feel on top of the world. Nothing can pull the wind from beneath you. It's beautiful, and we all enjoy that feeling of new love. But you also need to be realistic, as there can be many be complications. These include:
The relationship may be a rebound

A rebound is an undefined period following the breakup of a romantic relationship. Rebound relationships are believed to be short-lived due to one partner's emotional instability and desire to distract themselves from a painful break up.

In the aftermath of a breakup, its often-recommended time should be spent turning inward, reflecting, and spending time alone so you can process your grief. This can help lay a healthy foundation on which to begin your next relationship. But that's not always the case, and sometimes you find yourself in a loving, healthy relationship just weeks after a breakup. Yes, you could be experiencing real love.

Signs it's a rebound:

You have a sense (or even a pervasive knowing) that you don't really like the person, but you're just using him or her to fill the time or distract from your pain.

Your primary attraction to the new person is sexual, and you sense that you're using sex as a way to avoid dealing with your breakup.

When you're honest with yourself, you know that your draw to the new person is coming from a fear of being alone more than a genuine attraction to the person's essence.

You find yourself going hot and cold with the new partner, vacillating between wanting to spend time together and wanting to run away as quickly as possible. Your fear of commitment could be an indication that you haven't grieved and processed your ex sufficiently.

Often you just need to be honest with yourself and your intentions. If you look inward, you'll be able to work out your actual feelings.

Introducing your children to your new partner

You don't want to introduce your children to your new partner too soon, as the kids may get attached quickly. For example, if you introduce the kids during the first week you are dating and after three months the relationship ends, it can be devastating for kids for many reasons.

Your kids may feel it the most, as they have become attached to a new "parent" figure or role model. They may feel rejected, angry or sad again – especially if they have a poor, or no, relationship with their other parent.

In light of this, we recommend introducing a new partner only after a minimum of six, but preferably 18 months together. This time period allows your relationship to develop and you will know if the glue has set in and there is going to be longevity.

It also allows time for your children to deal with any issues or resentment from you and their other parent separating or going through divorce.

Whenever you're in this situation, make sure you communicate openly and give children time to process all of the new information.

Is your new partner really the person they say they are?

When dating or entering into a new relationship, we all always put our "best foot forward". We want this new relationship to work, to exceed our expectations, or we simply want to feel love again.

For this reason, we have to take care that we're not blinded by our "rose-tinted glasses". In these situations, we can fail to pick up on the warning signs or red flags. Sometimes, in hindsight, they've been blindingly obvious. Other times, it was that little niggling feeling in in our gut.

You never know, your new partner could be hiding their real identity – they could be a con-artist, serial domestic abuser or have a very colourful criminal record. It's a harsh reality, but it's something you should consider.

Make sure you are open to introducing your new partner to your friends or family members (not your children) to see how they interact in a social environment. Talk with family and friends about how you are feeling. Sometimes our friends and family members can see through the charm of a new partner and bring you back to reality. You also know yourself better than anyone else, so listen to your gut when the alarm bells are ringing.
What is a blended family? What does a blended family look like?
A blended family is a modern-day family. It's a colourful and wonderful family that can take on many different forms.
Your blended family might be different compared to other blended families. It could be a family where there are two divorced, separated or single adults who bring their children into a new de facto relationship or marriage.
It is important to know that not all blended families are related by blood, but they can still form strong, loving and close-knit bonds. They can live fulfilling, nurturing and cooperative lives together.
It can be exciting times for some, whether it is because you are gaining a new half or step-sister or brother, or a new big best friend in the form of another mum or dad.
With the excitement sometimes comes grief, such as feeling loss of your familiar "family" dynamic, or sadness, frustration and even anger. There is no right or wrong way to feel. And time is really the only thing that heals these confusing emotions.
The best way to navigate your blended family through these times is to talk openly about how everyone is feeling before you become a blended family and throughout the the process.
Time is key, so giving your children time to process their new family dynamic will help them transition into your new life as a blended family.
Common issues that blended families may need to deal with
Some common issues that may arise when you are navigating your way into a new blended family dynamic are:
children not getting along with your new partner
children feeling anxious, jealous or resistant to new siblings or a new "parent" figure in their lives
blame, frustration or anger towards new family members (due to the change in family dynamics, routines or surroundings)
confusion, defiance or anger towards new rules, routines and boundaries (with your children potentially not responding well to your new partner's parenting techniques)
relationships with your children changing
a new baby putting more strain on your current relationships.
Despite all of this, focusing on the positive and exciting times may help alleviate some of the stressors that are involved in the new blended family dynamic. Remember, it might be the start of something truly amazing.
How can we ease our way into the new blended family dynamic?
There is no right or wrong way to become a blended family. However, there are some things that can make the process easier.
Focus on the positives, such as your kids having "instant friends" to play with, more people for everyone to connect with, and more support when needed.
Before you move in with your new partner, talk to your children and their children separately, and then together, about everyone's expectations or fears. From there you can navigate how the new ground rules will play out and you can start to get an idea of what routines may look like in the future. You can even start spending nights together to get the kids used to the new routines and schedules. You can make this fun by getting the kids to be creative and come up with a roster for the fridge. While you're at it, maybe get them to make decorations or paintings for their new bedrooms.
Create an "open door" policy where everyone feels comfortable and safe to express how they are feeling. Change can be hard, but like the old phrase goes "a change can be as good as a holiday!" These conversations could be at the dinner table every night, or when playing with the football in the backyard after school. Wherever it is, encourage your kids to talk openly to you and your new partner.
Spend quality one-on-one time with your children and your new partner's children. This may be hard to navigate, but if you can do an activity one-on-one with everyone it will give them a sense of self-worth and show them they are loved. And this is really important for each child to feel like this, especially when going through big changes.
Encourage the other parent of your children to have a strong bond with their children too. Always speak positively of them in front of your children, as negatively speaking about them will only cause more harm than good.
No matter what happens, you will get through the teething stages and your blended family will continue to evolve with time. Nothing ever stays the same.
When you are entering into a new marriage or de facto relationship, you may not initially turn your mind to protecting your assets. However, it's important for your future that you think about asset protection.
What is a prenuptial agreement or prenup?
In Australia, the legal term used for a prenuptial agreement or prenup is a financial agreement that is entered into before a marriage or before a de facto relationship (see the threshold requirements) has started.
You can also enter into a binding financial agreement during a marriage or de facto relationship or after the date of final separation or divorce.
How to get a prenuptial agreement or prenup?
If you are wanting to protect your assets, it is important to know that the financial agreement can have whatever terms you and your future spouse or de facto partner agree to. But once the agreement has been entered into it will become legally binding.
You will both need to get legal advice before you enter into the agreement. The reason for this is that you don't need to register or have the agreement reviewed by the Court, which means that you both need to know exactly what you are signing up to, by way of the terms of the agreement, and need to know what financial effect it will have on you both. In light of that, there are certain requirements that need to be met.
We have extensive experience in drafting financial agreements and providing advice about entitlements and the effect of a financial agreement on you and your future.
If you're ready to get professional family law advice, contact our family law firm, Ivy Law Group, on 02 9262 4003 to arrange a free, no-obligation initial consultation.
After separating or divorcing, in addition to finalising a property division with your former partner, you will also need to consider the following:
Do you need to update the beneficiaries of your will or have a will drafted on your behalf?
Do you need to update the beneficiaries of any other fund, or legal document, including the beneficiaries of your superannuation entitlements?
We can help you update your will and estate planning and assist you in contacting your superannuation fund to update the beneficiaries.
If you're ready to get professional family law advice, contact our family law firm, Ivy Law Group, on 02 9262 4003 to arrange a free, no-obligation initial consultation.
The potential effect on your deceased estate
When considering entering into, or after starting, a new relationship, you should consider:
the effect the relationship may have on the property you have retained from your property division
the effect the relationship may have on your deceased estate – and in circumstances where there is or is not you entered into a prenuptial agreement with the new partner.
Most people are unaware that even with a prenuptial agreement, your estate may be faced with what is called a family provision claim. This happens when a new partner (or even the former partner with whom you had a property division with) argues they should be provided for out of your estate.
This is a very complex area of the law.
In New South Wales, there is a process where an application can be made to the Supreme Court of NSW to request that people be released from claiming against each other's estates.
As a matter of course we recommend clients do this with their former partner that they had a property settlement with – depending on the size of the asset pool involved and given this process is relatively costly.
For example, it is not unusual for a surviving widow, who had been in a relationship with someone, to be awarded most of the estate in circumstances where they are older and near retirement and have no assets themselves.
It's important to note that under the Family Law Act, property division related proceedings can be continued if they were issued prior to the death of a former partner, now deceased, but proceedings cannot be issued after they die.  
However, your newer partner (even where there is a prenuptial agreement in place) can make a claim against your estate after you die, where they might argue they were not adequately provided for.
This is why it is critical you obtain proper legal advice from one of our family and estate lawyers, who can also discuss aspects of your estate and advise on protecting it for the benefit of your children.
On that note, family provision claims can also include step-children (being your new partner's children) or people who cared for you or were dependent upon you (including step-children). This is why we sometimes might advise for you to transfer assets now to your natural children, with you retaining some life interest in the asset, and for your benefit.
Will my new relationship affect child support payments or spousal maintenance?
Child support payments
In most cases,
child support payments
are made until a child turns 18 years of age. However, there are some circumstances where child support payments will end, such as when a parent marries another person or enters into a de facto relationship with another person.In these circumstances, the child support payments you pay or receive may change.If your circumstances do change, you need to inform Services Australia to have your child support payments reassessed based on your new circumstances. You must do this within 28 days of the changes. Or if there is an existing
Limited or Binding Child Support Agreement
, or you wish to enter into an agreement with your former spouse or de facto partner, then you will need to reach an agreement about the terms of child support payments to reflect the support you are responsible to pay for your children and step-children.
Property settlement matters and spousal maintenance payments
When you enter into a new marriage or de facto relationship, your entitlements to your property settlement and spousal maintenance payments may change due to your financial position.Ultimately, if you are in a new marriage or de facto relationship, your obligations may change as follows:
Property Settlement matters

If you are currently going through property settlement matters with your former spouse or de facto partner, the things the Court will take into account to make a just and equitable division of the net asset pool and the future needs factors include:

whether you have a commitment to support (by providing child maintenance) another child of another relationship
whether you have a responsibility to financially support another person, such as your new spouse or de facto partner
whether you are living with another person and, in particular, the financial circumstances relating to your cohabitation
any fact or circumstance which, in the opinion of the Court, the justice of the case requires to be taken into account.

This means that when there is a consideration of future needs, whether in negotiations or if a Court is making an Order, these considerations will be taken into account which may result in an adjustment, in percentage terms, of the division of the net asset pool.

Spousal maintenance matters

Spousal maintenance payments will usually be determined for a specific period of time, whether in a financial agreement or by Court Order on an interim basis. It is rare for spousal maintenance payments to be paid indefinitely. Further, spousal maintenance will cease to be paid if Orders are made by the Court, if either party of the marriage or de facto relationship enters into a new marriage or de facto relationship with another person or if the person receiving spousal maintenance payments dies.

We are here to help you navigate your new relationship and can answer any questions you may have. For family law advice tailored to your circumstances, contact the family lawyers at Ivy Law Group on 02 9262 4003.
Need advice?
Our experienced team of family, property and commercial lawyers are here to assist.
Get in touch